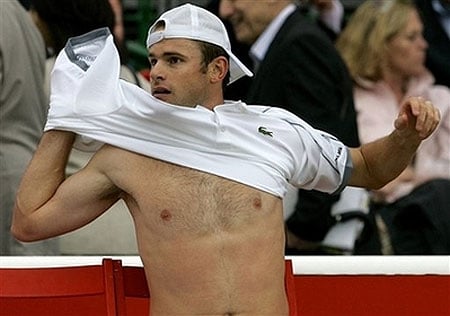 After giving the crowd a flash of his anatomy, Andy Roddick stepped into the quarterfinals of the Artois Championships at the Queens Club in London today after his opponent Mardy Fish was forced to step out because of an injury.
Also, some news on Andy Murray from the Queens Club here and here.
The "superfit tennis champ" is also profiled in this month's Outside magazine. Check out a behind-the-scenes video here, and the cover, AFTER THE JUMP...
Previously
Andy Roddick Defeats Djokovic to Enter Dubai Final [tr]
It's Hot in Melbourne [tr]
Terra Cotta Tennis Warriors Unveiled in Shanghai: Federer, Nadal, Davydenko, Djokovic, Roddick, Ferrer, Gonzalez, Gasquet [tr]