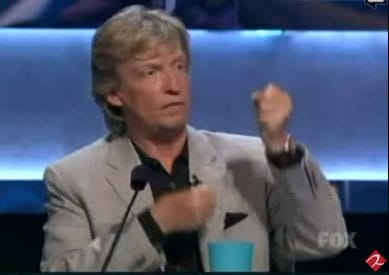 So You Think You Can Dance is one of my guilty summer entertainment pleasures, for sure, but producer and judge Nigel Lythgoe, who has been known to take dancers to task for their lack of masculinity, last night told a contestant that he looked "like someone's taken a broomstick and shoved it up where the sun don't shine."
How Lythgoe might have first-hand knowledge of what that looks like I have no idea, but it was a pretty rude comment. The audience thought so too, and I don't imagine he'd say the same thing to a woman.
I've clipped it, AFTER THE JUMP...
Here, also, was one of my favorite performances of the night:
Previously
So You Think You Can Strip is Back [tr]