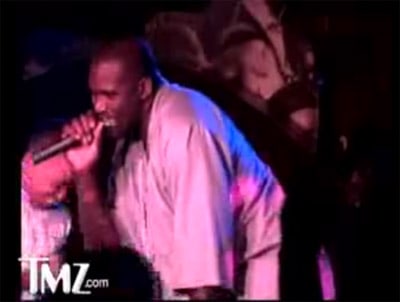 Phoenix Sun center Shaquille O'Neal took the stage at a NYC nightclub Sunday night to perform a freestyle rap targeting Kobe Bryant after Kobe lost the NBA championship. In the rap, Shaq taunts Kobe for not being able to win an NBA championship without him, blames Kobe for his divorce, and tells Kobe to "tell [him] how his ass tastes." Classy.
Said Shaq of the rap: "I was freestyling. That's all. It was all done in fun. Nothing serious whatsoever. That is what MC's do. They freestyle when called upon. I'm totally cool with Kobe. No issue at all. And by the way, don't forget, six albums, two platinum, two gold. Anybody who knows me knows I'm a funny freestyler. Check the NBA DVD when I was rapping about Vlade Divac during my first championship run. Please tell everybody don't make something out of nothing."
Watch it, AFTER THE JUMP...