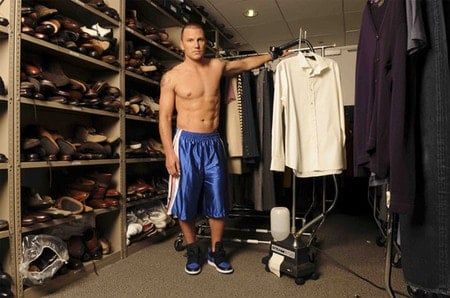 Sean Avery, the New York Ranger pro Hockey player-turned Vogue intern, has an entertaining diary up at Men's Vogue with some equally as entertaining photos in various states of undress.
Writes Avery: "The cafeteria in the Condé Nast building — which houses Vogue and Men's Vogue and Vanity Fair and The New Yorker and about every other magazine you've ever heard of aside from The Hockey News — is filled with some of the best-looking and best-dressed women in New York. Even aside from that distraction, my first attempt at getting lunch didn't go so well. You see, I needed two trays to hold my plates of beef stroganoff and my salad (which alone could probably feed four) and my two bottles of water and my Jello for dessert. To have two full trays in the Condé Nast cafeteria is like seeing a hockey player wearing skinny jeans — it just doesn't happen. And while my stick-handling on the ice keeps getting better and better, my tray-handling leaves a bit to be desired. I still can't find the girl who fled the cafeteria with beef stroganoff spilled all over her, but just in case she's reading this: You can find me on the twelfth floor, and I owe you a new outfit. I now limit myself to one tray at a time."
One more shot, AFTER THE JUMP...
In the Crease [men's vogue]
(images: Hannah Thomson – Men's Vogue]