Two last minute appeals to block same-sex marriage in California, one by the Virginia-based Liberty Council on behalf of the Campaign for California Families, and the other from five supervisors from Yuba, Stanislaus, Nevada and Sutter counties, failed on Tuesday, according to the AP.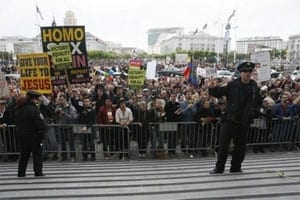 The appeals court, with whom the Liberty Counsel sought to halt the marriages, "refused to block the same-sex weddings until after voters consider a constitutional amendment in November that would again limit marriage to a man and a woman."
The five supervisors had sought a restraining order: "In a petition submitted Monday — hours before the California Supreme Court order legalizing gay marriage was to take effect — they had argued the Department of Public Health failed to follow regulations by creating new gender-neutral marriage licenses without waiting for legislators to amend the state's marriage laws."
The judge told them the petition should have been filed with the San Francisco Superior Court and refused to recognize it.
CNN covered the anti-gay ballot initiative yesterday and the lack of federal rights for same-sex married couples. Watch it, AFTER THE JUMP...