Yesterday I posted a flashback to a 1991 action by ACT UP in which seven members of the activist group fitted Jesse Helms' Arlington, Virginia home with a condom to draw attention to the late senator's vocal opposition to AIDS funding, safe-sex, and gay rights. One of those activists, Peter Staley, now Founder & Advisory Editor of AIDSmeds.com posted a story about the action yesterday, which, among other details, revealed how the action was funded: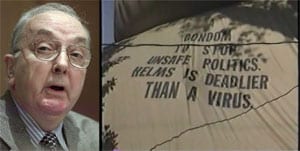 "This was going to be the first action by the newly formed ACT UP affinity group called Treatment Action Guerrillas (which split off from ACT UP a few months later and renamed itself TAG, the Treatment Action Group). We didn't have any money yet, but I stumbled on a donor I kept anonymous for many years. My boyfriend at the time, (Towleroad contributor) Kevin Sessums, was good friends with David Geffen. We were on Fire Island Pines that August, and Kevin told David about by plans. David walked up to me on the beach one morning, and handed me a thick wad of cash – $3,000. Problem solved."
The video, if you missed it, I've posted again AFTER THE JUMP...