Garrett Neff has been chosen to show off new Calvin Klein's Body and Body Stretch underwear in magazines and on billboards this fall.
DNR reports: "Shot on location in Miami by renowned photographer Bruce Weber, who shot Calvin Klein Underwear's first ad campaign 25 years ago, the sexy black-and-white images epitomize the very clean yet sensual aesthetic that Calvin Klein has become so well known for. Neff, who is the face of the company's fragrance, Calvin Klein Man, was featured alongside Kate Bosworth in the spring ad campaign for Calvin Klein Jeans. He succeeds Academy Award–nominated actor Djimon Hounsou as Calvin Klein's latest body."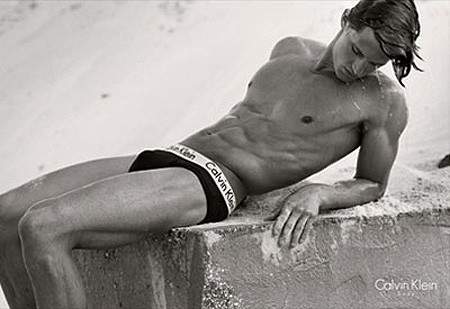 Here are two images from the campaign. The third follows AFTER THE JUMP...
Related
Hong Kong Will Not Arrest 27-Story Nearly Naked Man [tr]
Sportrait: Paul Bester [tr]