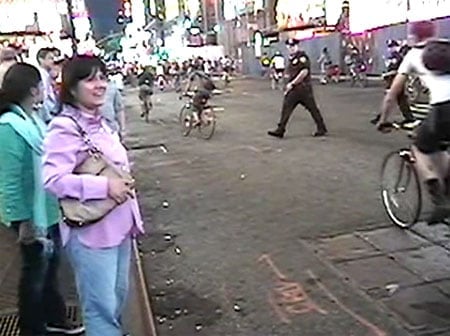 Have you seen the video of rookie cop Patrick Pogan assaulting cyclist Christopher Long during the Critical Mass bike ride demonstration last Friday in NYC?
Watch it, AFTER THE JUMP...
The NY Post reports: "What the video doesn't show is Pogan arresting Long for attempted assault in the third degree, resisting arrest and disorderly conduct - charges that kept the Bloomfield, NJ, man behind bars for 26 hours before his release late Saturday. Adding insult to injury, the criminal complaint drafted by Pogan bears little resemblance to what was witnessed by onlookers and recorded on video. In court papers, Pogan claimed that he wanted to issue Long a summons for failing to keep right, and then ordered Long to stop. The cop accused Long of purposely swerving his bicycle to block traffic and then using it as a weapon to run down the officer, knocking him off his feet and causing a 'laceration' on his forearm. 'You are pawns in the game. I'm going to have your job,' Long told Pogan, as he flailed and kicked his arms and legs, according to the complaint. Pogan has been on the force for just three weeks since graduating from the Police Academy on July 2 and is assigned to Midtown South. A third-generation cop, Pogan lives at home with his father - Patrick Pogan Sr., a highly respected detective and biochemical and mass-destruction expert who is retired from the Joint Terrorism Task Force. 'He's my son. I'm proud of him. He's third-generation that's been serving the city,' said Pogan Sr., 51, who was at home in Massapequa Park, LI, yesterday and said he had not seen the video. 'These people are taking over the streets and impeding the flow of traffic. Then you gotta do what you gotta do.'"
Watch it, AFTER THE JUMP...
Pogan has been put on desk duty and his badge and gun withheld pending an investigation. Hopefully, they'll fire him.