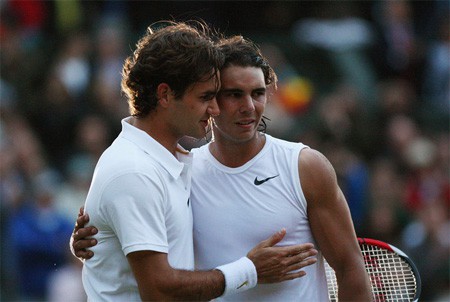 Did everyone see that epic Nadal-Federer final last night? Incredible.
The Guardian reports: "There were two rain interruptions, one of more than hour, the second of less than half an hour, but the pulse of the match was unrelentingly. It might have gone either way in the fifth. Finally, in what remained of the light at a quarter past nine, Nadal triumphed 6-4, 6-4, 6-7, 6-7, 9-7, the first man since Bjorn Borg in 1980 to win the French Open and Wimbledon back to back."
In his post-game interview, which you can watch AFTER THE JUMP, John McEnroe called it "the greatest match I've ever seen in my tennis career."
According to the Telegraph, "His comments were repeated by the world's press and borne out by the huge television audience the final received. Tennis fans caused a massive surge in electricity demand after Nadal took the Wimbledon title because they were glued to their seats during the epic match. A 1,400 megawatt spike - equivalent to 550,000 kettles being boiled - was recorded at around 9.20pm, as the Spaniard lifted the trophy. The surge shows millions watched the match. It was bigger than the increase in demand at half time during this year's Champions' League match when Manchester United beat Chelsea."
Highlights below. Interview AFTER THE JUMP...