Between 1998 and 2003, the GAO found that more than 60 gay linguists were discharged from the Army under 'Don't Ask, Don't Tell'.
Now, the Army finds itself in urgent need of linguists so it is planning to offer a six-figure bonus to retain them: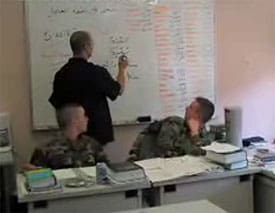 Writes Steve Ralls in the Huff Post: "This morning's Christian Science Monitor reports that the Army is preparing to offer a staggering $150,000 retention bonus to service members who are proficient in Arabic, "in reflection of how critical it has become for the US military to retain native language and cultural know-how in its ranks." Indeed, as the war in Iraq goes on, and the military subsequently finds fewer and fewer people anxious for extended stays in the desert, retaining trained troops is becoming a critical centerpiece of many commanders' strategies. The supply of Arabic speakers just isn't keeping up with the demand created by ongoing wars in Iraq and Afghanistan."
I've reposted Brave New Films powerful clip about Don't Ask, Don't Tell and the discharge of gay linguists, AFTER THE JUMP...
Previously
More Gay Linguists Discharged Under 'Don't Ask, Don't Tell' [tr]
Outed by Email: An Army Sergeant's Digital Discharge [tr]