The DNC has begun a campaign to expose John McCain's ties to big oil companies. Along with a dedicated website, they've released an initial ad in the campaign.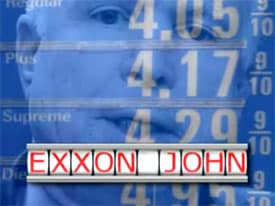 Says the spot: "Exxon John... There's pain at the pump for Americans these days, but Exxon John follows the oil company's ways... Big Oil's profits soar? Exxon John says 'four billion more...' Tax breaks for Big Oil? Most say 'No." Not Exxon John with lobbyists running his show... There's two million reasons Exxon John likes Big Oil: they've given him two million bucks to protect their spoils... The future in energy is alternatives they say, but that's not Exxon John's way... Exxon John, when it comes to Big Oil, more of the same while the rest of us toil... Exxon John."
Watch it, AFTER THE JUMP...