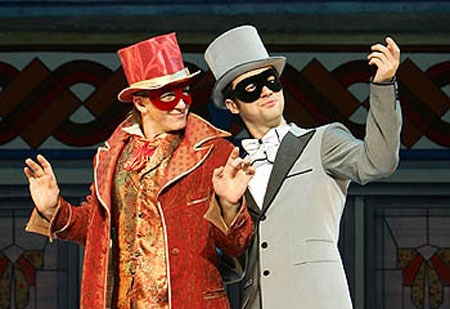 A production of Cinderella on Ice had its premiere in Melbourne on Tuesday, and audiences were treated to a "gay love sequence" performed by skaters Andrei Benikov and Yuri Salimanov.
The surprise sequence has "pro-family" groups up in arms and gay groups cheering:
"Mr Mercer said his updated version of Cinderella, which replaces the role of the prince with the mayor's son and the fairy godmother with a gypsy, enabled modern audiences to better identify with the characters. And gay couples are part of contemporary society, he said. 'I don't think there is anything offensive about including a gay couple,' Mr Mercer said. 'You see them day in, day out on the street.' Australian Families Association national secretary Gabrielle Walsh said the gay dance, by skaters Yuri Salimanov and Andrei Benikov, was inappropriate. 'We need to protect our children. They don't need to grow up any quicker,' Ms Walsh said. Nationals Senator Barnaby Joyce said the surprise inclusion of gay lovers was out of place in an audience of young children. 'They are making children's lives more complicated before they need to be,' he said."
A children's advocacy group had a different perspective. Said its CEO: "It's helpful as a way of breaking down prejudices."
A glimpse of the production at its New Zealand run (though I couldn't catch the gay bit), AFTER THE JUMP...