People has released some of their interview with Clay Aiken on his decision to finally tell the world he's gay.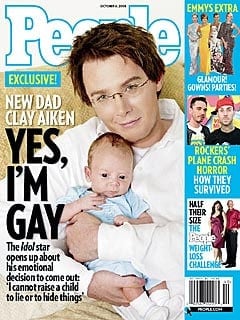 Said Aiken: "It was the first decision I made as a father. I cannot raise a child to lie or to hide things. I wasn't raised that way, and I'm not going to raise a child to do that...[I hope my fans ] know that I've never intended to lie to anybody at all. ... But if they leave, I don't want them to leave hating me."
On coming out to his family: "The born-again Christian singer also reveals how he told his mother Faye he's gay four years ago. After dropping off his younger brother Brett, who was being deployed to Iraq, at Camp Lejeune, 'I started crying in the car,' Aiken remembers. 'It was dark. I was sitting there, thinking to myself. I don't know why I started thinking about it ... I just started bawling. She made me pull over the car and it just came out.' So what was his mom's reaction? 'She started crying. She was obviously somewhat stunned. But she was very supportive and very comforting.' Even now, Aiken admits, 'She still struggles with things quite a bit, but she's come a long way.'"
Said Aiken of his child: "I have no idea if he'll be gay or straight. It's not something I'll have anything to do with, or that he'll have anything to do with. It's already probably up inside the code there ... No matter what the situation you're in, if you're raised in a loving environment, that's the most important thing."
The full issue will be released on Friday. AP's report on the news, AFTER THE JUMP...
Clay's Greatest Hits - Previously on Towleroad
Clay Aiken Cries from the Closet on QVC? [tr]
Clay Aiken: People Don't Care About My Sexuality [tr]
Clay Aiken Snaps at Another Reporter Over the "Gay" Question [tr]
Kansas Church: If Clay Aiken's Gay, He Can't Sing Here [tr]
Trouble in Claynation: Battle Over Aiken's Sexuality [tr]
Homophobia on Morning TV: Rosie vs. Kelly vs. Clay [tr]
Clay on Gay: People Will Believe What They Want [tr]