Prominent Hillary Clinton jet-setting supporter Lady Lynn Forester de Rothschild made a well-publicized defection to the John McCain camp yesterday, accusing Obama of being an "elitist". You can't make this stuff up: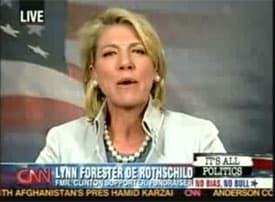 "She and her husband, Sir Evelyn Robert Adrian de Rothschild of the prominent Rothschild banking family of England, split their time between New York and a British country estate. It's not a bad life, she says, and she'd like you to have one just like it. Which is why she's backing Sen. John McCain for president, not her party's nominee. Sen. Barack Obama? He's an elitist, she says. 'I have a wonderful life,' the wealthy socialite told CNN's Wolf Blitzer on Wednesday. 'I want John McCain and Sarah Palin in the White House so other people can have that wonderful life.' After issuing her endorsement Wednesday, Rothschild resigned her membership of the Democratic National Committee's Platform Committee. But she told Blitzer that she wouldn't give up her party membership. 'I'm going to stay a Democrat,' she said. 'Ronald Reagan might have said it right -- the Democratic Party left me, I didn't leave the Democratic Party.'"
Rothschild then went on CNN and called average voters who are bitter about her defection "rednecks."
Watch it, AFTER THE JUMP...
Here's the full Campbell Brown interview (thanks, Dave):
(via pam's house blend)