Yesterday in Colorado, Joe Biden demanded that John McCain put an end to the character-assaulting robocalls coming from his campaign: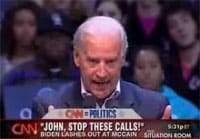 "If he's really serious when he said this morning on one of the shows that this election is all about the economy, then I say, 'John, stop your ads. Bring down those robocalls. If it's about the economy, argue the economy! Not about Barack Obama's character. Not about these scurrilous ads. John, stop these calls!"
According to the Boston Globe, "The most widely played is a sinister description of Obama's relationship with William Ayers, who led a radical antiwar group that bombed government buildings in the early 1970s. The caller says, 'You need to know that Barack Obama has worked closely with domestic terrorist Bill Ayers, whose organization bombed the US Capitol, the Pentagon, a judge's home, and killed Americans.'"
Watch the clip, AFTER THE JUMP...