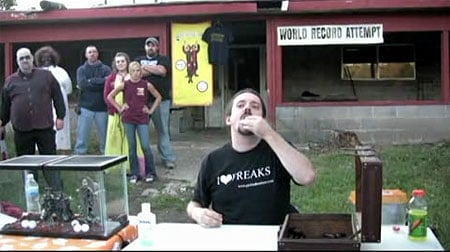 Sorry, this was just too crazy not to post.
Travis Fessler of Florence, Kentucky set a world record Saturday by putting 11 Madagascar hissing cockroaches in his mouth at the same time. The previous record was nine (warning: graphic photos at link):
"Fessler held 11 of the hissing cockroaches in his mouth for the mandatory 10 seconds. The bugs had to measure at least 2-1/2 inches in length and survive the attempt to qualify for a Guinness world record."
There's video too. Watch it (if you dare), AFTER THE JUMP...