At a press conference, yesterday, PolitickerNY reports that Senate Democratic leader Malcolm Smith took a question about same-sex marriage in the state and ran with it — to other topics: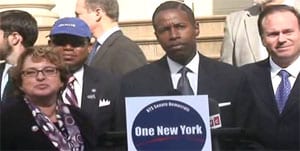 "When asked about same-sex marriage, Smith decided to switch topics completely and talk about the economy instead. 'First of all, let's talk about what important for the people around the state, two basic things. One is reviving the upstate economy,' he said. The other: 'We want to do something about property taxes around the state of New York.'...When pressed on whether he'd support the passage a bill to legalize same-sex marriage, Smith again avoided the issue. 'I can tell you our priority is about the state economy. That's our number-one priority,' he said."
Watch it, AFTER THE JUMP...