Maureen Dowd spoke with California Senator Dianne Feinstein about Harvey Milk and Proposition 8 in a column published over the weekend. Feinstein's well-known, soon to be extremely well-known gut-wrenching press conference following Milk's assassination, frames both the Friedman/Epstein documentary The Times of Harvey Milk and features prominently in Gus van Sant's biopic Milk, opening this week.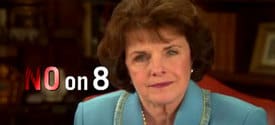 Feinstein also campaigned against Proposition 8 in an ad that was run statewide before the election.
Said Feinstein of Milk: "I was the one who found his body. To get a pulse, I put my finger in a bullet hole. It was a terrible, terrible time in the city's history...It's very painful for me. It took me seven years before I could sit in George Moscone's chair. It took me a long time to talk about it. I was only recently able to talk about it."
On the validity of the nearly 20,000 same-sex marriages in California: "You can't redact it. You can't blot it out. It's so intrinsic to the Constitution that you cannot remove it by a vote of the people."
On same-sex marriage in general, and gay adoption: "I think as more and more people have gay friends, gay associations, see gay heroism, that their views change. I think people are beginning to look at it differently, I know it's happened for me. I started out not supporting it. The longer I've lived, the more I've seen the happiness of people, the stability that these commitments bring to a life. Many adopted children who would have ended up in foster care now have good solid homes and are brought up learning the difference between right and wrong. It's a very positive thing."
The NBC Nightly News report on the Milk and Moscone assassinations, AFTER THE JUMP...
Marriage on the Rocks [maureen dowd]