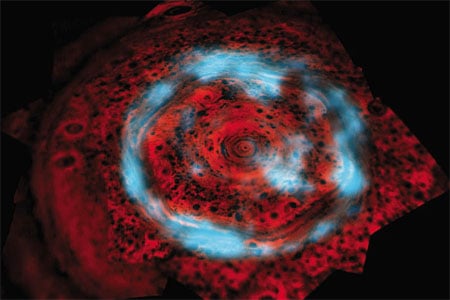 Scientists have observed magnetic behavior at one of the poles of Saturn unlike anything they've ever seen in the solar system: "Saturn's main auroral ring, like Earth's, is caused by the solar wind. But the newly observed infrared displays go all over the place. 'We've never seen an aurora like this elsewhere,' the University of Leicester's Tom Stallard, lead author of the Nature paper, said today in a NASA news release. 'It's not just a ring of aurorae like those we've seen at Jupiter or Earth. This one covers an enormous area across the pole. Our current ideas on what forms Saturn's aurorae predict that this region should be empty, so finding such a bright one here is a fantastic surprise.'"
The first image ever taken of Earth from the moon was shot in 1966 by Lunar Orbiter 1. A 20-year project to revamp the image to a higher resolution was recently completed, resulting in what you see below.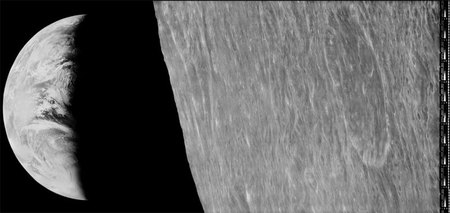 See what it looked like before the re-tooling, AFTER THE JUMP...