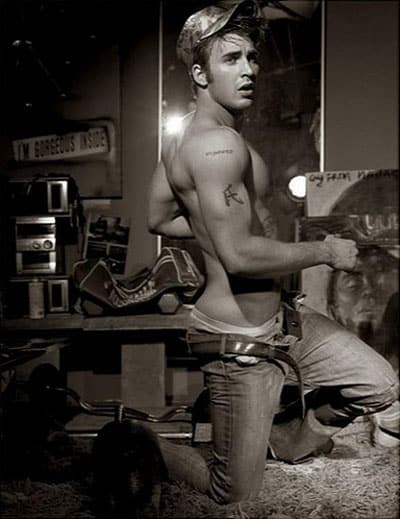 Chris Evans talks to Brandon Voss at the Advocate about male objectification, particularly the amount that occurred after a much passed-around shirtless photo spread appeared in Flaunt magazine. The shoot lead to a ban by his publicist on photo shoots of that nature, so as to protect his chances at becoming a "serious" actor.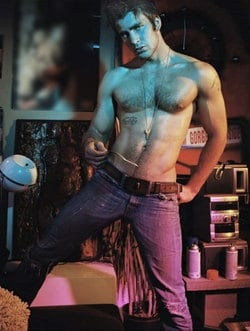 Said Evans of the shoot: "I really didn't think twice about taking my shirt off at the time, but my current publicist would pull her hair out if I did that photo shoot today. If I got to a photo shoot and they said, 'OK, we're going to do some shirtless shots,' I'd say, 'Fine. No big deal.' It never really occurred to me that that could be misinterpreted as a bad thing or as selling out. I couldn't care less, and I don't think it makes one lick of difference. But I hired my publicist for her professional opinion, and she seems to think it's a mistake. I have no problem taking my shirt off for a role if the part calls for it, but my publicist says, 'When you're promoting yourself, being you, there's a way to keep it as classy as possible. Greasing yourself up and stripping down may not be the best way to do it.' To some degree, she may have a point. But at the end of the day, it didn't bother me then and it doesn't bother me now."
Evans also confirms his brother is gay:
"Yes, I do have a gay brother. I'm down with the gays. Mostly I'm hanging out with him and his gay buddies, who are fucking hilarious. They're the funniest people I know. They've invited me out to gay bars before, and I said, 'Look, guys, I've got to draw the line there.' That's where a photo will get taken, it will run in magazines, and before you know it, I'll be living down the gay rumor for the rest of my life. [My brother looks like me], but he's about an inch taller and about four shades tanner than I am. He's a very fit young man. Believe me, he does quite well for himself."
One more shot from the old Flaunt shoot, AFTER THE JUMP...
A List: Chris Evans [the advocate]