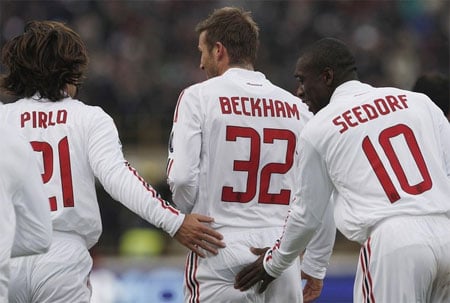 David Beckham scored his first goal for AC Milan over the weekend causing a rush for his ass by teammates:
"The 33-year-old football ace was seen getting groped by his AC Milan team-mates, Andrea Pirlo and Clarance Seedorf during the Serie A stars game against Bologna at the Renato Dall'Ara stadium...it wasn't just a case of cheeky behaviour, the pair were congratulating midfielder Beckham - and also touching him for luck after he scored his first goal for the club he is on loan to for three months. An AC Milan insider said: 'Everyone knows Beckham has a golden touch and he has proved that since he arrived. 'Italy is a superstitious country and people often touch things for luck - the players are doing the same with Beckham and touching his bottom because he is seen as a lucky mascot.' Pictures of the players touching the bottom of Beckham were published in several Italian newspapers, all with the headline: 'Now he is a lucky talisman.' Since the former Manchester United player arrived in Milan, the side has not lost a match both in the Italian league, nor in a friendly."
The Spoiler notes that Beckham also appears to have picked up an Italian accent. Watch the clip, AFTER THE JUMP...