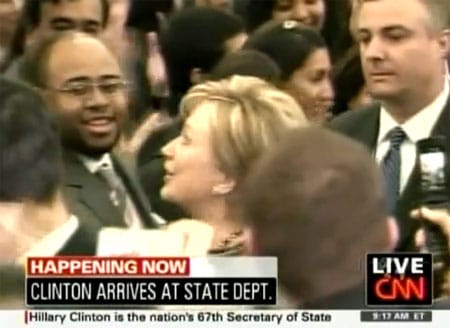 Secretary of State Hillary Clinton could not have received a warmer welcome on her first day of work at the State Department, getting an extended ovation from workers there. Clinton's remarks, which followed the clip below, via Shakesville:
"And I will do all that I can, working with you, to make it abundantly clear that robust diplomacy and effective development are the best long-term tools for securing America's future...I want you to think outside the proverbial box. I want you to give me the best advice you can. I want you to understand there is nothing that I welcome more than a good debate [cheers] and the kind of dialogue that will make us better...So I take this office with a real sense of joy and responsibility, commitment and collaboration. And now, ladies and gentlemen, let's get to work!"
Watch it, AFTER THE JUMP...