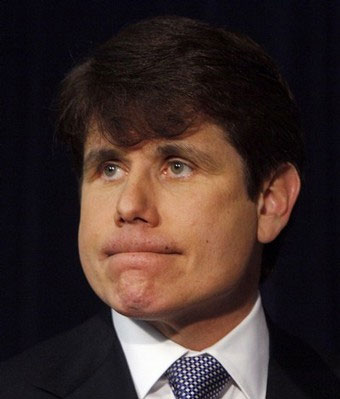 Illinois Governor Rod Blagojevich has been impeached.
The Chicago Sun-Times:
"Making history, the Illinois House voted this morning 114-1 to impeach Gov. Blagojevich for breaching the public's trust. The unprecedented action sets the stage for a Senate trial on whether he should be thrown out of office for corruption and abuse of power. Before the vote, House Majority Leader Barbara Flynn Currie said Blagojevich has 'forfeited his right to hold office. He should be impeached.' She noted that he hasn't given the people of Illinois an explanation for the corruption charges filed against him by federal prosecutors that include allegations he schemed to profit from his power to name President-elect Barack Obama's replacement in the Senate. Republican leader Tom Cross was one of many lawmakers who called the Blagojevich scandal 'an embarrassment' that has made Illinois a national laughingstock. 'It's our duty to clean up the mess and stop the freak show that's become Illinois government,' said Rep. Jack D. Franks, a Democrat. Lawmakers hope the proceedings will help improve the state's reputation."
Trib: "Rep. Milt Patterson (D-Chicago) was the lone vote against impeaching the governor. Patterson, from Chicago's Southwest Side, said after the roll call that he didn't feel it was his job to vote to impeach the governor. He declined comment on whether he approved of the job Blagojevich is doing."
Breaking news announcement, AFTER THE JUMP...