A 31-year-old man was found dead at Club Pittsburgh, a gay sauna, on Sunday. Investigators are awaiting toxicology results on the death.
Local media has turned its attention to the club's owners, the city's zoning committees, and Pittsburgh's mayor: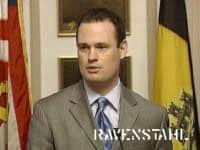 "Pittsburgh Mayor Luke Ravenstahl said political contributions by the owners of Club Pittsburgh were not behind the way the city resolved a zoning cease and desist order against alleged sex-related activity at the club. "Every contributor that has ever given money to me is not given preferential treatment and the story line that continues is unfortunate," said Ravenstahl. Club Pittsburgh's Web site refers to nudity and private booths for its male-only clientele. Ravenstahl's administration said meetings with the owners and the mayor's chief of staff brought assurances that the club would stop selling sex paraphernalia and hosting go-go dancers. The city didn't hold follow-up inspections because no further complaints were filed. 'Nothing here was done inappropriately. As I said before, and I'll say it again, it's unfortunate that in this case it was once again suggested that it had something to do with the actions that were taken,' said Ravenstahl."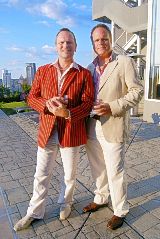 The Post-Gazette, which Wednesday asked if the city looked the other way after complaints about sexual activity at the club, today profiled the club's owners, who reportedly have held many political fundraisers including one for Ravenstahl:
"In a posting on www.pghlesbian.com, Mr. Karlovich defended himself and his partner, saying the city's complaints about his club were based on factual errors and minor violations that were later corrected. 'We have done nothing wrong. We love this city and our community,' he wrote. 'We will continue to do what we can to improve this city as a whole and our gay community in particular.' Mr. Karlovich also expressed sorrow for the death of Cleophus Pettway, 31, of Youngstown, Ohio, whose body was found in a private room at Club Pittsburgh. He said the club's Web site, www.clubpittsburgh.com, would provide information about helping Mr. Pettway's family raise money for funeral expenses. The Allegheny County medical examiner's office was waiting for the results of toxicology tests and had not determined a cause of death."
The Club's website has posted a note of condolence for the man's family and friends.
Club Pittsburgh's owners often open their home for philanthropic events [post-gazette]
City Officials Voice Concerns After Man's Death [wpxi]
Ravenstahl Addresses Club Pittsburgh, Political Contributions From Owners [msnbc]
Did city look the other way on racy Strip District club? [post-gazette]
Club Pittsburgh [site]