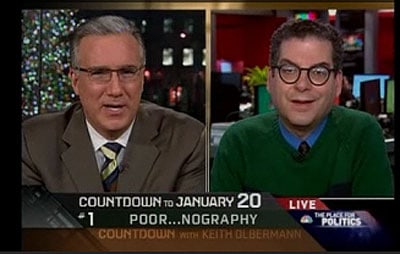 Keith Olbermann talked with Michael Musto last night about the collapse of the porn economy, and what the bailout might look like.
Asked Olbermann: "Would there be a porn tsar?"
Said Musto: "There's a lot of concessions we can make. No more Ron Jeremy films. Barney Frank is gonna wanna be the fluffer on Schindler's Fist. There should be a porn tsar. There's gonna be no more Bush soon - what did I say? I think Obama's first task should be to appoint Sarah Palin a porn tsar because she more than anyone knows how awful it is on the rare occasion when people keep it in their pants."
Watch it, AFTER THE JUMP...