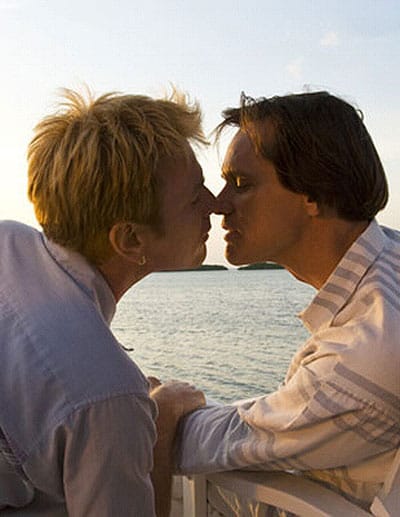 Jim Carrey, whose new film I Love You Phillip Morris has been received very well at Sundance, talked recently about his own internalized homophobia and his decisions to take the role, as well as his experience performing in a sexual role with Ewan McGregor: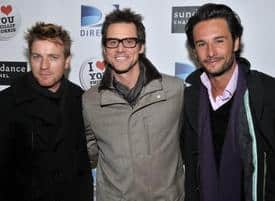 "If I were to be really honest, there was a homophobic voice that rose up inside me that said, 'Gee, this is kind of scary. First of all, what will people think, and second of all, will I like it? Will I like kissing Ewan? How will that affect me? There were a few people in my world who said, 'Are you sure you want to do this?' And that still exists. I said 'Absolutely' because, sexual preference aside, it is a story that is so compelling and interesting and different. It's about humanity. It is about you love who you love. And love is love. And that's it...."
As for the kiss: "Ewan was a bit prickly. I think we have some great sexual chemistry on screen. I think there is definitely a lot of smouldering,'yum, yum, eat-him-up' vibe."
Carrey reports that one person asked him, "What are you doing for the gay community?"
Said Carrey: "That was a tough one. Here's a movie about love and tolerance. And that's something. And I just see it as an internal job. I think people are changing internally. So we all learn to love ourselves, we will love each other. We are a bunch of mirrors out there. If something bothers me about this guy in the front row, it's me."
The film also stars Brazilian actor Rodrigo Santoro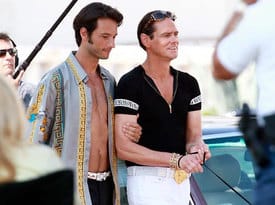 The Hollywood Reporter: "Like Carrey's character, the story and style are all over the place, rendering it somewhat inaccessible. Admittedly, the whole film is in a bit of an aesthetic dither that will confound many viewers. Still, filmmakers Glenn Ficarra and John Requa have concocted a frothy and misty amusement."
Defamer: "Let's get this out of the way: Jim Carrey and Ewan McGregor make just about the cutest, most gaga-in-love couple we'll likely see in any movie at Sundance. No, the camera does not cut away from their passionate kisses or acts of fellative love; dare we say Morris contains some of the most sensitive images of bitch-on-inmate affection that have ever been captured on film."
Variety: "The 100 minutes is one of the most unusual mixtures of the fest -- moments of Carrey's branded hilarity opposite brutal prison culture and graphic gay sex. Requa said they'll put some even hotter cut scenes on the DVD extras."
The Sundance press conference for the film with the actors and filmmakers, AFTER THE JUMP...
Previously
I Love You Phillip Morris Billboard Up in Cannes [tr]
Jim Carrey and Ewan McGregor Have Windblown, Key West Romance [tr]
Jim Carrey and Rodrigo Santoro Play Gay in I Love You Phillip Morris [tr]
Ewan McGregor and Jim Carrey to Make Love in Prison [tr]
In four parts: