Activists reacting to Utah state senator Chris Buttars anti-gay rant in which he compared gays to radical Muslim extremists and called them America's "greatest threat" (and was removed from two senate committees for his remarks) have planned a weekend rally called  'Buttarspalooza' on the Utah Capitol south lawn: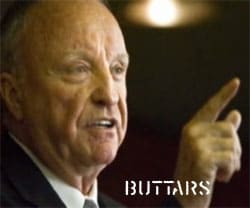 "[Co-organizer Michael] Mueller said Saturday's event, which runs from noon to 4 p.m. on the Utah Capitol's south lawn, will highlight other issues that he says pose greater threats: the economic recession, racial injustice and environmental crises, to name a few. The festival, named in the tradition of music festival Lollapalooza, also will feature live music and a D.J. Organizers had hoped to hold the event in Buttars' hometown, but West Jordan city parks are closed to events from November through March."
Said Mueller: "It's a celebration of the fact that we are all Utahns. It's a celebration of our diversity." 
The Senate GOP is standing behind Buttars, saying he wasn't removed from the committees because of his remarks but because he violated rules that he wouldn't speak publicly about topics such as gay rights handled by said committees.

Watch a new FOX 13 report on the ongoing Buttars fallout, AFTER THE JUMP...