Fallout from the acquittal verdict in the murder trial of Gavin Alker, accused of killling  Liverpool teen Michael Causer, continues.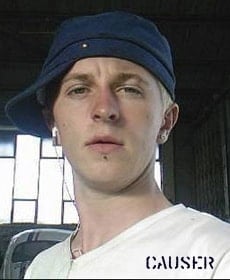 "Friday's decision means the judge must now decide on whether or not the attack was a hate crime. According to evidence put before the jury, the trigger-point for the violence came when sexually explicit images of the trainee hairdresser were found on his mobile phone, prompting a "sustained and brutal" attack on his naked sleeping form and leaving him with a fractured skull and a swollen brain. Mr Causer was punched, kicked and finally battered around the head with a heavy history book so forcibly that the book's spine broke, the court heard. It was alleged that Mr Alker, who had never met Mr Causer, screamed "You little queer faggot" adding, "He's a little queer, he deserves it." During the trial it was also claimed that a cigarette lighter was used to burn the hair on Mr Causer's legs, and that threats were made to rip out his body piercings with a knife. But the jury accepted Mr Alker's evidence that he had been acting in self-defence after he denied making homophobic comments, blaming the attack on O'Connor. The murder has had a profound effect on Liverpool, a city which is busy re-inventing itself as a gay destination with the creation of its own gay quarter, referred to as the Gay Village, and plans for an annual Pride March. Many in the city are puzzled at the lack of interest shown in the case by the outside world, Friday's acquittal again failing to generate national media attention."
Young. Gay. Proud. Murdered: the hairdresser battered to death [the independent]
Video of the protest held after the verdict (which I posted yesterday) AFTER THE JUMP...