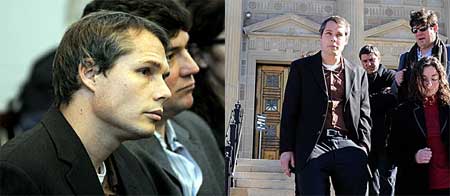 Street artist Shepard Fairey, best known for his Obama "Hope" image and his Andre the Giant street graffiti, was arrested Friday night (for at least the 15th time) on his way to his first solo museum show, at the ICA in Boston: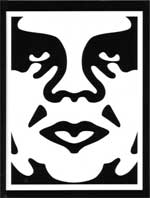 "Fairey was arrested...on his way to the Institute of Contemporary Art to DJ at a sold-out party kicking off his first solo exhibition, 'Supply and Demand.' Two arrest warrants had been issued Jan. 24 after police determined that he had tagged property in two locations with his street art campaign featuring Andre the Giant and the word 'obey,' said Boston police officer James Kenneally."
The ICA released a statement in support of the artist: "We believe Shepard Fairey has made an important contribution in the history of art and to popular thinking about art and its role in society."
Fairey plead "not guilty" in Brighton District Court this morning and was released on his own recognizance.
Watch a news report on the arrest, AFTER THE JUMP...