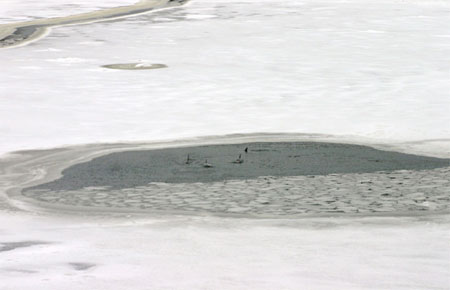 A group of five dolphins were trapped this week for more than three days by pack ice after they presumably chased fish into a harbor at Seal Cove, Newfoundland.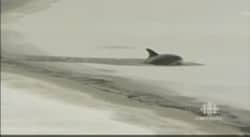 "The town had called for an icebreaker to free the white-beaked dolphins, only to be told that none were available, and even if one was, that it could push broken ice into the weakened mammals, further injuring or killing them. Yesterday, some of the dolphins had disappeared, feared dead. Four remained in the morning; by midday, it was three."
16-year-old Brandon Banks then took matters into his own hands and launced a five-hour rescue: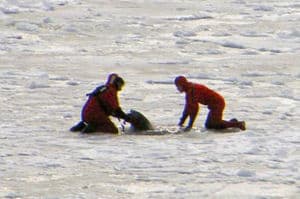 "And so it was yesterday that the young Mr. Banks and four other locals hopped into a 17-foot fibreglass boat - with stainless steel propeller blades, it was a do-it-yourself icebreaker... They launched the boat into the icy cove, and set about clearing a way out for the dolphins. They rocked back and forth against the ice, breaking it apart and working a small path 250 metres long into the enclosure while the three remaining dolphins circled around. Once near them, Mr. Banks donned a red dry-suit and hopped into the frigid February ocean waters, face to face with the trapped dolphins to free them. 'It was real cold, but we didn't feel it because of the suits," he said. In the boat, they carved out their path into the free ocean water. Two of the dolphins followed without trouble. The other two had left earlier - presumed freed or dead - and only one was left in the cove, weakened. 'Two got out through, and the next one was too tired,' said the young Mr. Banks, who leapt into the water to hold onto the 180-kilogram dolphin, called a jumper by the locals. 'I kept him up with my legs, keep his head up from under the water.' Meanwhile, many people from the town lined the cove, taking in what was happening a couple of hundred metres out onto the ice."
Clips, AFTER THE JUMP...