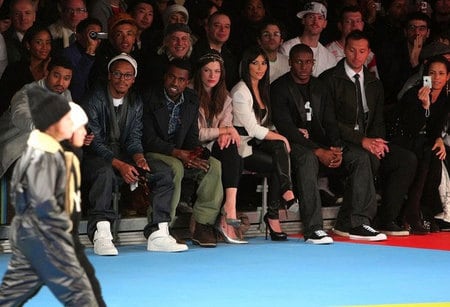 An interesting line-up at the Y-3 show yesterday at Pier 40 for Mercedes-Benz fashion week in New York.
From left to right: Hip-hop artist, Lupe Fiasco, "gay dresser" Kanye West, Milla Jovovich, Kim Kardashian, football pin-up Reggie Bush, "not gay" Aussie swimmer Ian Thorpe, and model Veronica Webb. And then directly behind Thorpe are NYC-based artist and photographers Brian Kenny and Slava Mogutin.
Rufus Wainwright also apparently showed, New York's The Cut reports. They add: "Aussie Olympic legend Ian 'the Thorpedo' Thorpe['s]...arms are as long as you've heard but [he] wasn't nearly as bloated as recent rumors have suggested."
Thorpe was looking sharp (where's travel companion Daniel Mendes?). Another shot of Thorpedo as well as Rufus Wainwright and Yohji Yamamoto, AFTER THE JUMP...