In a piece in the Huffington Post today, Barney Frank clarifies his recent statements about Supreme Court Justice Antonin Scalia's homophobia, presenting two opinions, from Lawrence v. Texas and Romer v. Evans.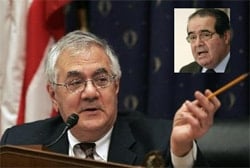 Writes Frank: "While responding to questions from journalists about my characterization of Justice Antonin Scalia as a homophobe, I realized that the fact that I made that comment in conjunction with a potential lawsuit about the Defense of Marriage Act created some confusion as to my basis for that characterization...I have attached some of the relevant quotations from the two opinions."
You can read them at the HuffPost and I've re-posted the audio of his recent WBZ interview, AFTER THE JUMP...