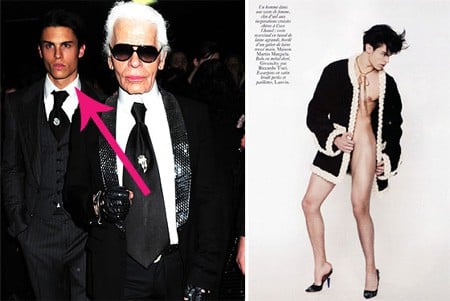 New York magazine's The Cut reports that designer Karl Lagerfeld has dumped his longtime muse Brad Kroenig (who was the focus of an entire book of Lagerfeld photographs) for French model Baptiste Giabiconi. Giabiconi, who Lagerfeld shot for the photo above in this month's French Vogue) has become part of Lagerfeld's entourage. They were photographed, along with Lagerfeld's longtime bodyguard Sebastian (who remains Lagerfeld's hottest accessory imho) in New York last November (below).
The Cut writes: "Harriet Mays Powell met Baptiste when she was in France hanging out with Karl in the Chanel showroom. He's a sweet fellow and comes from the South of France. 'He looks like me — well, maybe a better-looking version of me from a long time ago,' Karl told her."
A few more photos of Baptiste, AFTER THE JUMP...