The Washington Post today published an editorial in support of the Uniting American Families Act, which was reintroduced in February in the Senate by Patrick Leahy (D-VT) and in the House by Jerrold Nadler (D-NY), saying that if the bill passed, "it would right a gross unfairness." The UAFA seeks to eliminate discrimination in the immigration laws by permitting permanent partners of United States citizens and lawful permanent residents to obtain lawful permanent resident status in the same manner as spouses of citizens and lawful permanent residents.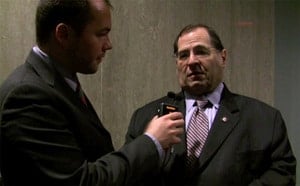 Writes the WaPo: "The strain of the status quo on gay and lesbian binational couples should not be discounted. Because their relationships are not legally recognized by the United States, some couples have resorted to illegal marriages where the foreign nationals marry Americans to get green cards that allow them to stay in the country permanently. In other cases, Americans have exiled themselves to be with their partners. Sixteen countries, including Australia, Brazil, Canada, Israel, South Africa and the United Kingdom, allow residents to sponsor same-sex permanent partners for legal immigration. American gays and lesbians should not have to choose between their country and their partners."
Watch our interview with Nadler about the UAFA (recorded during the Obama inauguration festivities), AFTER THE JUMP...
Separation Anxiety [washington post]