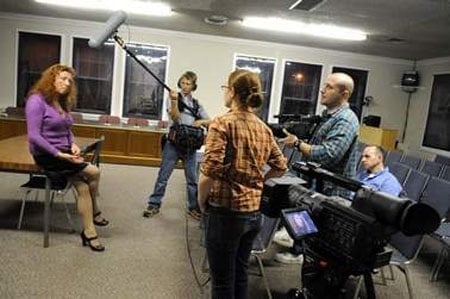 You may remember last November when Stu Rasmussen of Silverton, Oregon became the nation's first transgender mayor. A production team is now shopping Stu's story to interested networks.
The Statesman Journal reports: "Camera crews from Los Angeles rolled into town Monday to begin filming a teaser for the show...At a packed City Council meeting Monday night, the crew from production company RDF USA began filming the project...Lead producer Gerald Massimei said Silverton has exceeded their expectations. 'It will make a phenomenal background for a really interesting story,' Massimei said. 'There is something really special about this town...We want to invite people, if they see us filming, to come say hi to Stu. Don't be afraid of the cameras.' The show would be centered around Rasmussen and his challenge as a transgender person living in a small town. It would also look at the mechanics and intricacies of local government, including some 'hot button' issues such as the Silver Creek Dam, Rasmussen said. 'I have a big ego, but not big enough to think this is going to be Stu-centric,' he said."
The production activities as covered by Showbiz Tonight, and another brief clip of Rasmussen which I've posted before, AFTER THE JUMP...