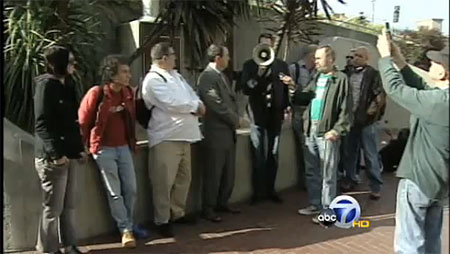 A  group of 15 activists and officials of the newly formed San Francisco Gays Without Borders chapter gathered at Harvey Milk Plaza in San Francisco's Castro district to draw attention to recent reports of executions of gay men in Iraq: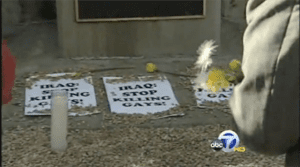 KTVU: "They called for gay rights in Iraq after various media outlets reported that an Iraqi Interior minister said six gay men were killed in recent weeks after their families disowned them.Supervisor Bevan Dufty said that some of the Iraqi victims had the word 'pervert' in Arabic written on their bodies, leaving no doubt why they were targeted. 'This is the beginning of what could be untold slaughter of innocent people,' said Dufty. 'Tribal councils, basically put out death sentences on people. That's obviously far afield from anything related to democracy.' On Tuesday, the San Francisco Board of Supervisors is scheduled to take up a resolution supporting Gay Rights in Iraq."
Watch ABC7's report on the demonstration, AFTER THE JUMP...