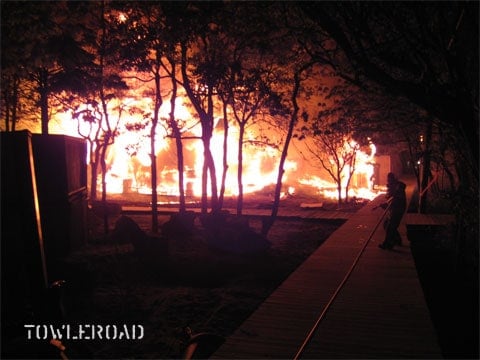 (photographs by Karen Boss for Towleroad, more AFTER THE JUMP...)
Late last night, I began hearing that homes at  Fire Island Pines were ablaze near Bay and Holly walks. For those of you not familiar with Fire Island Pines, it, along with the town of Cherry Grove, are popular gay and lesbian summer destinations for New Yorkers. Fire Island is a barrier island off the south coast of Long Island not accessible to automobiles.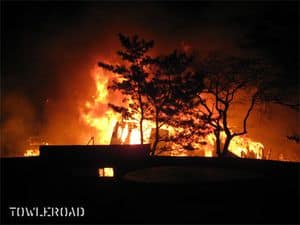 A report from Newsday on the fires:
"The fire broke out at about 10 p.m., said Ed Tully, deputy chief fire coordinator of Suffolk County's Department of Fire, Rescue & Emergency Services. Tully said the homes at 244 and 245 Baywalk were destroyed and the blaze was still smoldering early Thursday. No injuries were reported in the fire, Tully said."
The Great River Fire Department (and likely other Long Island units across Great South Bay) were called into action. — according to one firefighter's Twitter.
I have heard that one of the homes was currently under construction and that the fire was started by the explosion of a propane tank. Fortunately, the wind last night was blowing toward the bay, otherwise many more homes might have been lost. I'm sorry for those who lost their property in this accident. And thankfully nobody was hurt
More images, AFTER THE JUMP...