The Minnesota Supreme Court has declared Al Franken the winner in his U.S. Senate race against incumbent Norm Coleman: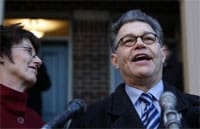 "'Affirmed,' wrote the Supreme Court, unanimously rejecting Republican Norm Coleman's claims that inconsistent practices by local elections officials and wrong decisions by a lower court had denied him victory. 'Al Franken received the highest number of votes legally cast and is entitled [under Minnesota law] to receive the certificate of election as United States Senator from the State of Minnesota,' the court wrote."
UPDATE: And Coleman has conceded.
Watch MSNBC report, AFTER THE JUMP...