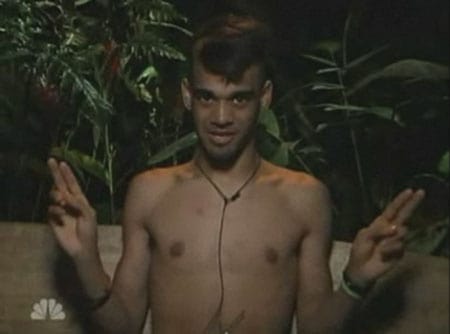 Here's an example of the kinds of things that spew forth when a bunch of "celebrities" accept money to sit around in a jungle for days on end. Earlier this week on I'm a Celebrity Get Me Out of Here, a discussion began when former American Idol contestant Sanjaya Malakar submitted to Janice Dickinson's request that he put on eyeliner.
Here's the confession that resulted:
"Like, yeah, a lot of people want me to be their gay best friend, and I make a really good gay best friend. But I don't like guys, so it confuses people...I do hair, and I'll sit in the corner and knit. So it confuses people. A lot of my friends refer to me as their 'straight gay best friend' because we'll go do things that stereotypically you would do with a gay guy...I'm not, like, that classic, stereotypical macho guy that's just, like, 'Oh yeah! Oh, she's hot. I wanna get in her pants! I'm not that kind of guy. I was raised by women, so I kind of have a connection with my feminine side, but I'm attracted to women. So, it's like people like to kind of throw that at me, like, 'Oh, you must be gay.' But I'm like, 'Whatever, gay people are awesome.'"
Watch the clip, AFTER THE JUMP...