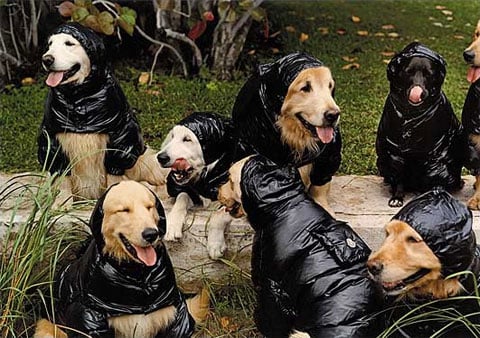 Cutest ad I've seen in a while, but probably the most expensive coat your dog would ever wear.
They're custom made for a Moncler campaign shot by Bruce Weber, which also features a self-portrait of Weber himself, along with his other fetish — a cadre of shirtless male models in a Sisyphean exercise.
The NYT's Cathy Horyn writes: "The shoot was done at Golden Beach, Florida, where Mr. Weber and his
partner Nan Bush have a home. As charming as the self-portrait is, with
Mr. Weber appearing to snooze amid the tools of his trade, I liked how
he incorporated his sense of play into the images. He had Moncler down
jackets made for his golden retrievers, and he had a giant ball made
from a bunch of coats, which some guys are seen pushing up a gravel
pile. At the same time, the absence of an overt fashion message is
interesting, and, of course, effective."