The Senate Judiciary Committee will hold hearings beginning at 10am tomorrow on the Uniting American Families Act, which seeks to eliminate discrimination in the immigration laws by permitting permanent partners of United States citizens and lawful permanent residents to obtain lawful permanent resident status in the same manner as spouses of citizens and lawful permanent residents: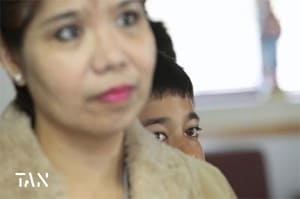 Immigration Equality: "Wednesday's hearing will feature Shirley Tan, a Filipina mother of 12-year-old twins from Pacifica, Calif., who is facing deportation despite having been with her partner for 23 years. Though Tan's children and partner are American citizens, she cannot be sponsored for residency because her partner is female. Unless Congress takes action to pass UAFA, Tan will be forced to return to the Philippines. Joining Tan as a witness will also be Gordon Stewart, a native of Vermont who was forced to sell his family's farm and relocate to London to be with his partner, who is Brazilian. Stewart, who transferred his job with Pfizer Pharmaceuticals to the United Kingdom, has been welcomed in that country, where his partner received a visa to be with him. Under U.S. immigration law, his partner was unable to join him in the United States, and Stewart was forced to leave his family behind to be with the person he loves. Other witnesses include Julian Bond, chairman of the National Association for the Advancement of Colored People (NAACP) and attorney Christopher Nugent, who will represent the American Bar Association (ABA)."

I've reposted our January interview with Rep. Jerrold Nadler (D-NY), the chief author of the UAFA, AFTER THE JUMP...