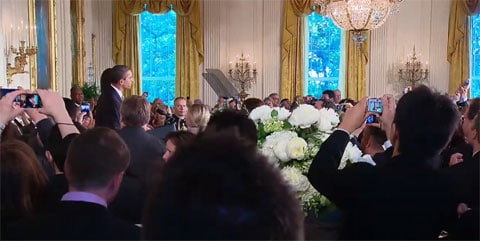 Here is full video of Obama's remarks to those assembled in the White House East Room yesterday for a reception marking Pride month. This is a follow-up to yesterday's post, where you can see the transcript and guest list to the event.
Watch it, AFTER THE JUMP...
Here is a round-up of reaction and reports on the event:
Wall Street Journal: "The president gave no new details about how he would advance these issues, but he made passionate remarks saluting the pioneers of the gay-rights movement and expressed solidarity with those working for equal rights."
NYT: "Joined by his wife, Michelle, the president directly addressed criticism from gay and lesbian leaders that he had not been a forceful advocate for them."
AP: "But the president says his administration already has made progress on several fronts and that activists will — in his words — 'have pretty good feelings' about the Obama administration when he leaves office."
CNN: "But critics say it's too little, too late."
Washington Post: "But the excitement among the several hundred guests invited by the first couple to the East Wing Monday was tempered by frustration among many who believe that the president has moved too slowly to make good on his campaign promises."
Guest Tom Gregory: "The Obama Administration assembled a group of two hundred or more of America's well-heeled leaders for equality, but like little doggies most were wide-eyed at his feet. Today's address left me wanting. The pain experienced by homosexuals is deadly tragic. Annually, thousands of American children kill themselves due to the bigotry pervasive across America. In today's speech President Obama said gay America would be happy by the time his administration is over. If he doesn't stop offering excuses and empty promises, they will be."
Guest Joan Garry:  "No president had ever invited a big bunch of us over for cocktails during Pride Month before. The event was remarkable. Historic. I was proud to be there. Proud to have my partner at my side...And of course I wanted more."
HRC: "President Obama's remarks today were welcomed and appreciated and, as he stated, it is the actions to advance equality — not simply the words — that will be the true marker by which this White House will be judged.  On the eve of this weekend's 40th anniversary of Stonewall, the president has yet again reiterated his support for most of the critical federal issues facing millions of LGBT Americans.  We must continue the hard work of turning that support into the passage of actual laws.  We look forward to working with President Obama and his administration to advance equality, and we pledge to be good-faith partners throughout the many battles that lie ahead of us."
Log Cabin Republican spokesperson, Charles T. Moran "It is pretty entertaining to watch the President throw himself a 'Pride Party' after taking a pass on acting upon several issues that would have fulfilled his promises to our Community. I'm not quite sure what he's actually proud of. Hollow words and false promises do not define a legacy or an Administration - only actions and follow-through. This Administration has had several opportunities to show its commitment to the LGBT community and make life better for millions of Americans. Hosting this 'sideshow' reception only rubs salt in the wounds of so many that actually believed his message of 'hope & change.'"
GLAAD President Jarrett Barrios: It was an honor to take part in this important event for the gay and transgender community with fellow advocates and my 17-year old son...Our community will continue to advocate and will be watching closely to ensure Obama makes good on the promises he discussed today and during the campaign. At the heart of the issues discussed today are everyday Americans who want the same chance as everyone else to earn a living, be safe in their communities, serve their country, and take care of the ones they love."
Americablog: "The President gave his speech to the big gay A-listers at the White House (well, minus those who were blacklisted). Boy, that crowd was really into it. They clapped wildly when he said the words, 'gay, lesbian, bisexual and transgender.' Just because he said the words. Even though Bill Clinton said those words - what? - 17 years ago? Also, your president wants you to know that unjust laws must be overturned. Some day. The crowd loved that one too. One might forget that the Obama administration defended the Defense of Marriage Act law recently. They not only defended it, they defended it in a way that demeaned and mocked same-sex marriages by invoking incest and pedophilia. But never mind."
Americablog also notes that the guest make-up was 64% men, 36% women.
Guest Rick Rosendall: "I spied Frank Kameny (whose guest I was at the event) sitting on an upholstered bench at the foot of the main staircase, and sat down next to him. I told him of a conversation I had just had: 'So I said, 'Will you support the Uniting American Families Act — Jerry Nadler's bill?' He said, 'I haven't read it yet.' I said, 'Please take a look at it,' to which he said, 'I will.'' Frank asked, 'Who said this to you?' I replied, 'The President of the United States.' Now I realize that getting the President to tell you that he'll look at a bill is not the most earth-shaking development, but if John Aravosis thinks I am going to pass up a chance to get a few moments of input to the most powerful man in the world, he can kiss my you-know-what."
Watch the full video of Obama's remarks, AFTER THE JUMP...