Choreographer Merce Cunningham died peacefully in his home in New York on Sunday, according to his foundation, the L.A. Times reports: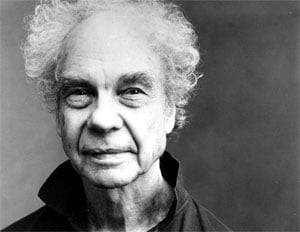 "Cunningham challenged nearly every assumption about how dances are made and perceived. '"Dancing is a spiritual exercise in physical form,' he wrote in 1952. Evolving over the years from a fluid and even balletic modern dance style to a technique emphasizing sudden, virtuosic changes of direction, balance and body-focus, Cunningham refused to interpret music, tell stories, depict characters or even to accept the idea of the choreographer as a kind of all-knowing god. Instead, he used chance (throwing dice, flipping a coin) to help him discover possibilities beyond his imagination, insisting that the choreography, score, scenic design and costumes for a work should be created independently and come together only at the final rehearsals or first performance. 'Cunningham is happiest when he can create a situation in which no one knows what to expect,' Times music critic Mark Swed wrote in 2003, 'not his audience, not his dancers or collaborators, not least himself.'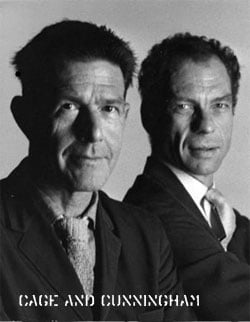 Cunningham had a long partnership with composer John Cage, who died in 1992:
"Like his father, his brothers became lawyers, but Cunningham studied acting in the Cornish School of Fine Arts in Seattle, soon switching his major from theater to dance. There he met composer John Cage, who was soon to be his lifelong personal and professional partner...In 1944, Cunningham and Cage gave their first joint concert in New York (six solos to Cage's music), and the following year he left Graham to freelance. Cunningham formed his own company in 1953, allying himself with leading members of the American avant-garde: painters Andy Warhol, Frank Stella and Jasper Johns, among others. Robert Rauschenberg became his first resident designer, and Cage served as music director...The relationship with Cage deepened into what people who knew them call one of the great (if sometimes turbulent) love stories of the age -- one inseparable from the couple's revolutionary achievements as artists. 'They amazed me by their air of living for art and freedom,' critic Alfred Kazin wrote of them. But it wasn't a time when anyone, anywhere celebrated what amounted to a gay marriage, and, what's more, the personal style cultivated by Cage and Cunningham left their story largely untold. 'I don't think I was guarded about my personal life,' Cunningham said to the Guardian in 2000. 'John and I were together. We did our work together. We traveled together. What more is there to say?'"
One of Cage and Cunningham's mixed media collaborations and another Cunningham piece called "Beach Birds", AFTER THE JUMP...