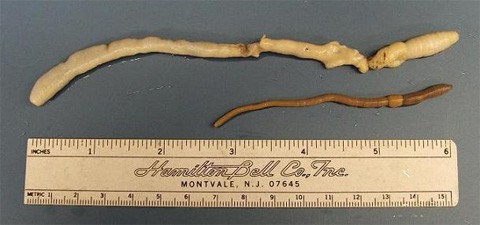 And Kevin Bacon's not involved:
"The worm is said to secrete a lily-like smell when handled, spit at predators, and live in burrows 15 feet deep. There have only been four sightings. But scientists hope to change that this summer with researchers scouring the Palouse regoin in hopes of finally finding the giant earthworm. Conservationists also want the Obama administration to protect it as an endangered species, even though there is scant scientific information about its existence...[Joyce] Johnson-Maynard and her team of worm hunters are working this summer at a university research farm and using three different methods to try and find a living worm. One involves just digging a hole and sifting the soil through a strainer, looking for any worms that can be studied. The second involves old-fashioned chemical warfare, pouring a liquid solution of vinegar and mustard onto the ground, irritating worms until they come to the surface. The third method is new to this search, using electricity to shock worms to the surface.
Relationship to Kevin Bacon, AFTER THE JUMP...