Gay WPLG-ABC news anchor Charles Perez, who was demoted from weeknights to weekends, has filed a discrimination complaint with Miami-Dade's Equal Opportunity Board claiming that the station was uncomfortable with "the increasingly high profile of [his] sexual orientation," the Miami Herald reports: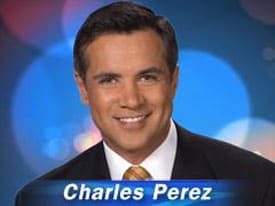 "The filing summary details Perez's quick descent at Channel 10, which began weeks after a March 3 performance review, when Perez says that WPLG News Director Bill Pohovey told him he was 'too anchor-like and too 'Brian Williams' in my delivery.' On March 16, a private e-mail from Perez written to a family therapist was forwarded to everyone in the reporter's online address book. The e-mail said Perez told the therapist he needed to work through his 'gender identity issues.' Three days later, Pohovey called Perez into his office for a 'new' performance review, this time saying that Perez came across 'too soft,' didn't sound 'main anchor-like' and smiled too much with co-anchor Laurie Jennings. 'Like girlfriends.' On April 3, Perez went to court seeking a restraining order against his former partner, Dennis Ricardo Peña, whom he accused of leaking the private e-mail. Later that month, Perez claims he 'began to disappear'' from station promotional spots. He lost the weeknight anchor seat July 22."
Read the Perez complaint (PDF) and the station's rebuttal (DOC).
You may remember Perez from the nationally-syndicated Charles Perez Show,
AFTER THE JUMP...