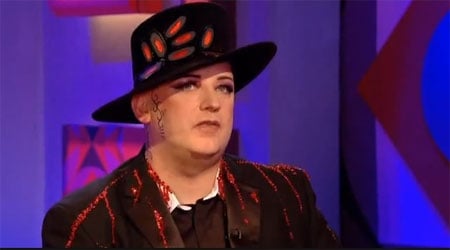 Boy George talked about bring sentenced to prison and his prison experience on Friday Night with Jonathan Ross. Said George: "I had it coming for a while. It wasn't that big a surprise for me...I knew it was going to happen. I expected it to happen." He also talks about the gifts he received: a ghetto blaster from Elton John, teapots, a "chocolate willie", and gay porn magazines.
In part two he talks about his addictions, the song he wrote for Amy Winehouse, decorating his jail cell, and a new single coming out in December.
Watch, AFTER THE JUMP...