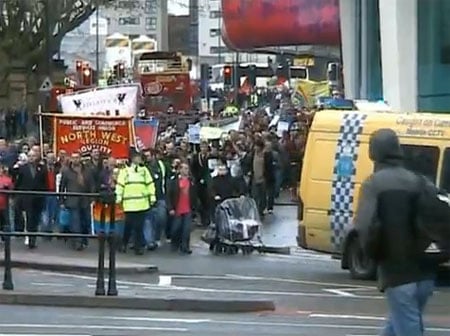 More anti-hate demonstrations in Liverpool, UK over the weekend:
"More than 1500 people braved wintry conditions to join yesterday's march in the city centre. It was organised following a spate of 'gay bashing' attacks in Liverpool, with the murder of gay teenager Michael Causer and the assault on Merseyside Police constable James Parkes, 22, who was left fighting for his life after a beating outside Superstar Boudoir, on Stanley Street, last month. Among those attending the march yesterday was Michael's mum Marie, from Whiston. She said: "It's been a fantastic turn-out. This is what we need. 'We're here to get the message across that enough is enough and that homophobia isn't acceptable, not here, not anywhere.'"
Watch scenes from the march, AFTER THE JUMP...