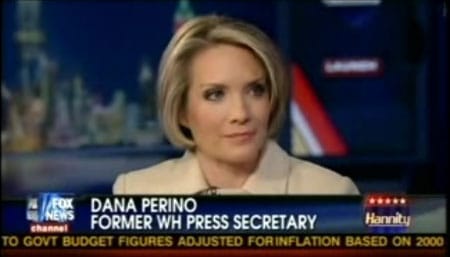 In a discussion of the Fort Hood shooting, Dana Perino criticizes the Obama administration for not calling it a terrorist attack, and then makes the obscene claim, "We did not have a terrorist attack on our country during President Bush's term."
Incidentally, Perino was just asked to serve in a media-oversight job in the Obama administration:
"Dana M. Perino, Mr. Bush's fourth and final press secretary, was nominated Thursday by President Obama to serve on the Broadcasting Board of Governors, an independent agency responsible for overseeing the Voice of America, Radio Free Europe and other non-military broadcasts sponsored by the federal government."
Watch, AFTER THE JUMP...
(via media matters)