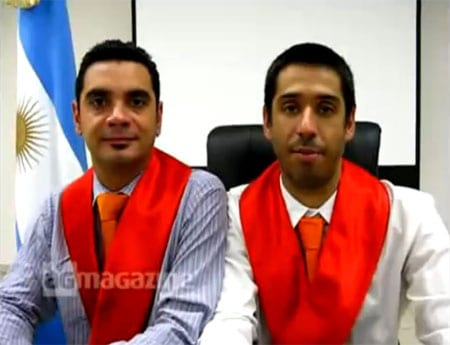 A judge in Argentina has reportedly ruled that Jose Maria Di Bello and Alex Freyre can marry, Reuters reports:
"An Argentine judge has granted a homosexual couple permission to get married, setting a precedent that could pave the way for the Catholic country to become the first in Latin America to allow same-sex marriage. This week's ruling by Judge Gabriela Seijas in Buenos Aires, which became the region's first city to approve civil unions between same sex couples in 2002, may increase pressure on lawmakers to debate a gay marriage bill currently deadlocked in Congress. 'The law should treat everyone with the same respect according to their singularities, without the need to understand or regulate them,' Seijas said in her ruling, which could still be overturned by city authorities. The couple, Alex Freyre and Jose Maria Di Bello, said in a statement posted on a gay rights Internet site that the decision would allow them to become 'the first gay couple in Latin America to get the right to marry.'"
Watch a video (in Spanish) of Di Bello and Freyre shot in April, after the couple's application to marry was rejected, AFTER THE JUMP...