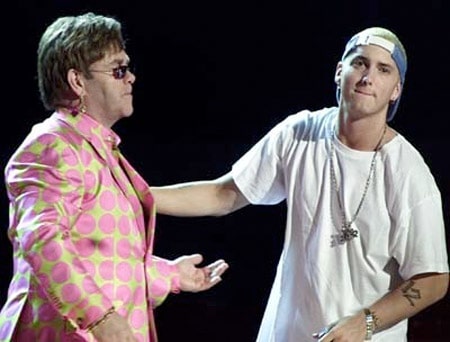 In an interview with Elton John yesterday, Radio 5 DJ Danny Baker brought up the topic of addiction and Elton acknowledged that he's been helping Eminem kick his drug habit:
"I've been helping Eminem in the last 18 months and he is doing brilliantly. When you give it up, you tend to think everybody else has given it up, but of course it is just as prevalent as it ever was. And nowadays pills, such as downers, are even more damaging. I'm there if people want my help. If people ask for help you can tell them where they should go, but there is no point advising someone if they don't want to do it."
Listen, AFTER THE JUMP...
Previously...
Eminem Disguises 'Faggot' Slur in New Song 'Elevator' [tr]
Sacha Baron Cohen's 'Bruno' Teabags Eminem at MTV Movie Awards [tr]